We have covered in some detail in previous articles the many benefits of relaxing in a hammock, whether for a pleasant break in the day, or for a good night's sleep on a sultry summer night. Many are the times, however when one might desire the weightless supported feeling of a hammock, in a more seated position or in a space too confined for a traditional hammock. Enter the hammock chair or hammock swing.  Easily supported by any sturdy ceiling, tree branch or overhead beam, a hanging chair provides much of the comfort of the hammock, without the spatial considerations.
Everything from the simple to the sublimely ridiculous, and from almost every hammock making country in the world. We have tried most of these out, and found many with intriguing qualities. The categories generally seen are the open woven variety hand crafted in the Nicaraguan and Mexican tradition, the Brazilian fabric type, and much more elaborate swings crafted with wooden arms and backs.  In this general survey we will describe and discuss the various pros and cons of the different types.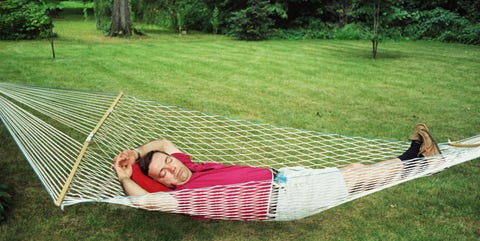 The Open Weave
This hanging chair is typical of Mexico and Nicaragua. It employs the same type of weaving that is characteristic of the hammocks.  The Mexican chairs use a thick #24 cord to make the bed, which is then supported by a wooden cross bar.  The Nicaraguan uses a medium gauge hammock cord.  The length of the bed and the width of the bar determine size and comfort.  Bars from 34″ to 47″ can be found.  The wider bar gives more shoulder length but soaks up more of the woven bed, and requires a larger space for hanging than the smaller sizes.  As a class these chairs are wildly comfortable, especially on a hot summer day.
The Cross Woven
The chairs of Brazil are the most stylish and attractive of the lot.  Although they do not allow the full body support of the open weave types, they are great, and great looking, afternoon hang outs.
The Air Chair
The first of the "contraption" style chairs is the Air Chair, also known as the Sky Chair and by a dozen other brand names.  These chairs are very comfortable, and generally have a foot rest that can be adjusted higher than the chair for great relaxation.  As for looks…ai yai yai!
Swings and Things
A host of swings, double swings, wave chairs, hanging basket chairs and other pieces of furniture that use suspension rather than legs and rockers to grace the front porch on a summer afternoon have been developed.  We will discuss them at greater length in future articles.
Hammocks used for camping
Would also like to add the idea of taking a hammock camping, as i thought of buying one of the Eagles Nest Outfitter ones!